Home * Bears * Memory Bears * Gallery * Pet Bears * Birth Announcement Bears * Biker Bears * Book *

Testimonials * Order * Contact * About Us * FAQ

I love bears - any fabric or construction, size or style. I REALLY like being able to make a bear for someone that makes them feel good. One that may cause tears but preserves a memory, that they can hold and remember the love of a parent or child or friend. Bears have that ability anyway -- add the personal touch of making it from a treasured garment or chosen fabric and you have something special. Bears are friends for life, and one of ours will become a family heirloom.
A couple years ago, these bears became even more precious and therapeutic when we lost our eldest son. That summer, the teenage grandkids helped make bears from their Dad's clothing. We have Bellybutton Bears from both our Dad's and our eldest son now. So, yes, I understand the spot these fill in the families they go to.

These are the bears who started it all. Nope, not

Bellybutton Bears at all.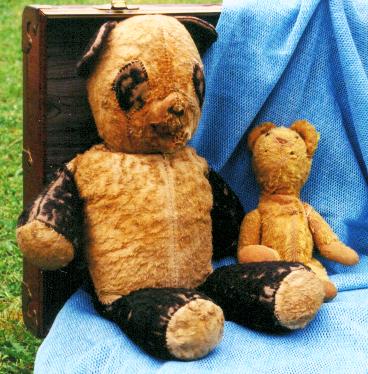 'Grandpa' Panda and 'Greatgrandpa' Goldie are old and worn, tattered and torn.

They are not going to be reconditioned or restored, because they earned every smudge and stain through many years as the companions and friends of children.
Goldie belonged to my father, who was born in 1918. Over 94 years allows you some wear and tear! Panda is a youngin', maybe 64, and I don't remember him ever not being there for me. Teddy (not pictured) is about the same age, but lives with a sister. These bears homesteaded in Alaska, moved to Arizona and back up to Oregon. Additional bears started moving in on us a few years back, and then I made one for the eldest grandson. From that, Bellybutton Bears was born. Other bears live here, squeezed in with tea cups, and fabric, junk and dust that we collect, but there is always room for another. They gather on top of my computer desk at work...and crawl right into your heart. They know all the words to 'Teddy Bears Picnic' [which used to be the theme song for the 'Big John and Sparky' radio show for kids--old Alaskan homesteaders knew those radio shows by heart!].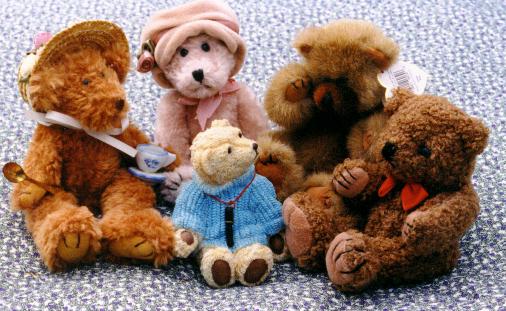 [photos by Cheri]
Want to know more about us? You can write me at:
Denise Fields ~ Bellybutton Bears LLC
10299 E Evans Creek Road
Rogue River, OR 97537
Or call:
I retired in June 2011, but am often busy away from the phone, so I will call you back.

Click

HERE and read on......or visit our Sister Site,

Click here to return to main page, Bellybutton Bears

Bellybutton Bears LLC, © 2012

BBBears Web Design (C) 2012

Home * Bears * Memory Bears * Gallery * Pet Bears * Birth Announcement Bears * Biker Bears * Book *

Testimonials * Order * Contact * About Us * FAQ