Home * Bears * Memory Bears * Gallery * Pet Bears * Birth Announcement Bears * Biker Bears * Book *
Testimonials * Order * Contact * About Us * FAQ
Frequently Asked Questions....and other odd things you might want to know!
PLEASE NOTE; THESE ARE NOT TOYS NOR INTENDED TO BE SUCH

Note this date:  March 15, 2020 there will be some small price changes.  As updates are accomplished,
that will be reflected on the ordering and pricing pages.  Read the full notice there.
ALSO, Every order will receive a free gift of some sort. Small orders, small gifts.
 Large orders, larger gifts.  These will range from tumbled gemstones, bear ornaments or book marks
on up to actual little bears or bear books.
Because EACH bear is hand crafted individually, we can do just about anything with each and every one!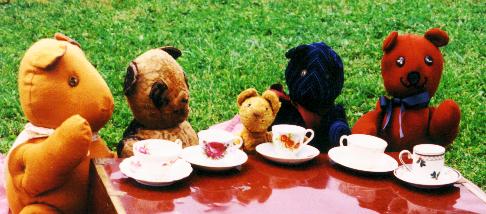 Here, Butterscotch on the left and Banker & Allspice on the right have tea with two honorary members as they plan the growth of the Bellybutton family. Panda and Goldie provide the mature input.
Q: How much is a bear?

A: Standard bears start at $59.95,

[$69.95 after

3/15/2020

]

plus shipping which depends on your location. Adding a memory vest is $5.95. This is the 16" bear. 12" bears take as much time to make, $49.95 each,

[$59.95 after

3/15/2020

]

 

plus shipping. We can always talk through email or phone until you know what your bear will cost. Don't be afraid to ask! Embroidery requested on foot pads or elsewhere is $5 per location. Yes, I can ship internationally, depending on the country. Ask me.
Sizes are for a standing bear; ie, 16" from bottom of feet to top of head. Bears WILL vary despite being made from the same pattern. I have a 16" pattern and a 12" pattern [and can do other sizes as needed]. The fabric they are made from allows different stretching as they are stuffed and this causes some to be fatter, thinner, slightly taller or shorter than others.

ADOPTABLE BEARS:

These are 'ready made' & usually a theme [farming, floral, fishing...] They are not custom or guaranteed one of a kind and sell for much less. Standard pricing is $20 for the 12" and $10 for the 6 to 8"

Q: Do you have

GIFT

CERTIFICATES?
<![if !supportLists]>o <![endif]>A: Yes!! Just send us a note to bellybuttonbears@charter.net or call 1-888-229-7873
Q: Are you a real business, or is this a hobby?

A: Bellybutton Bears began almost 30 years ago with a bear for my grandson. I made others upon request and then began selling a few. Gradually the memory teddy bear persona grew as I experimented with using treasured garments. It is now a business, with bookkeeping and taxes.

Q: What can you make a bear out of?

A: Just about anything. Some sheer or very stretchy fabrics require a backing cloth for support, but so far I have managed everything I have been challenged with. [knits, dresses, shirts, jackets, just ask!] Yes, your bear can be made from a combination of garments - up to 22 different fabrics are possible!


Bellybutton Bears are hand-crafted (from a variety of fabrics), stuffed with 100% polyester and love, finished off with buttons (of course). These personalized memory teddy bears, with movable legs and arms, are from the Rogue River den in southern Oregon.

Q: Where do I send my fabric? [yardage, garments, photos etc].

Q: What if I want a specific color eyes?

Q: How long does it take?

A: Usually under two weeks. This is a single person operation, so every bear is hand crafted by myself, and receives my personal attention. Remember that multiple bear orders WILL take longer, and sometimes I already have some in process when your materials arrive. If you need something by a particular date, ask and I will let you know if I can do that.

Q: Can you use pins and patches?

A: Certainly! Anything that makes the bear more personal, reflecting the memory you are preserving. I will use any buttons that come on garments as well, and if you have any that are special to you for any reason, include them. However, I will provide buttons if you have none.

Q: What about pictures?

A: I can scan photos [Color, B&W, slide] or use one sent with an email, crop and resize as needed. I print these directly on the fabric. Pictures might be put on a vest on the bear or tucked inside an ear or on a paw.

Q: Why do you make them?

A: The first time I made a true memory bear for someone, the look on their face said it all. I had made something that reminded them of a loved one, something they could hold onto and share better than a coat or shirt in the closet.

Q: Why are they called Bellybutton Bears?

A: Each bear has a bellybutton, which is their trademark. I wrote an original story, The Bellybutton Legend, to explain why they have a button for a bellybutton. I've begun a series of Bellybutton Bear adventures tied to historical events. Interested?

Q: Can we read the story?

Q: What if I don't have a garment, but want a special bear for someone?

A: No problem, with a few simple bits of information, I can choose an appropriate fabric and make a memory bear that will become an heirloom.

Q: What if I lost a pet and want to remember it?

Q: Need more info about the bears...

Q: Discounts on multiple orders?

A: No discounts, but sometimes we have specials on vest additions [usually an extra charge for that, with the exception of pet bears.] Also the shipping cost per bear tends to decrease on multiples.

Q: What if I have special requirements, concerns, questions?

A: Email me! [bellybuttonbears@charter.net] I love a challenge and I WILL figure out just what you need and want in your bear. If we need to talk, I will send my phone number and times I can be reached. I'm retired now from my day job but still have a very busy schedule.

Q: What about pricing for special requests?

A: We talk about it until we reach a solution for both of us! Most bears will fit in the standard price range [see above]

 

However, Biker or Buckaroo bears are a little more due to the difficulty of working with the leather. I also make 12" bears, which are only slightly less because they take as much time and work.

Q: I don't have a special garment, or even a particular memory. I just want a neat bear personalized for myself or a friend. Am I out in the cold?

A: Of course not! You answer some simple questions as to likes and dislikes, hobbies, etc. and in a few days you will have the perfect bear to start memories with. I have done several for new grandchildren where the grandmother brought me remnants from the quilt she made each child. They have a matching bear that will outlast [maybe!!] the quilt and become an heirloom in their family. I have also done special anniversary, wedding, birthday bears for a number of people.

Q: Do you only sell locally?

A: Although I have a lot of bears in Southern Oregon, there are Bellybuttons across the US, and in England, Ireland, Australia and Russia. I do not have a walk in store, all bear business is done online or through word of mouth.

Q: Do you take credit cards?

Q: Can we buy Bellybutton Bears anywhere else?

A: No, they are only made one place! Once in a while we offer 'ready-made' theme bears on consignment. It might be patriotic or fishing, camping, something like that. Also through our sister store,

Homestead Store

, both online and when we have a physical presence a few times a year. [I am in business with 3 sisters as well, so it really IS a sister store!]

Q: What if I can't find my question on this page?
Home * Bears * Memory Bears * Gallery * Pet Bears * Birth Announcement Bears * Biker Bears * Book *
Testimonials * Order * Contact * About Us * FAQ
Bellybutton Bears LLC (C) 2020